Fairbank, Maslin, Maullin, Metz & Associates conducted the poll between November 6-14, 2018.* The top findings were:
1. While Washington voters rejected Initiative 1631, they continue to overwhelmingly believe that climate change is real and that action is required.
Figure 1: Climate Change Awareness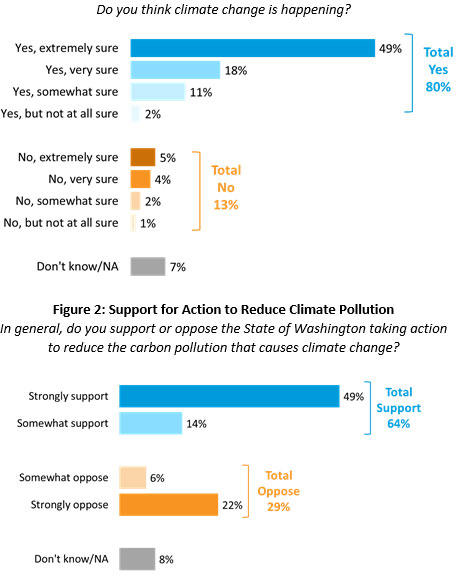 2. Two-thirds of voters support a shift to 100% clean energy generation by 2045, and clean transportation fuel policy also garners a majority of support. Among those that support climate action but did not vote for I-1631, 71% want the state to adopt a 100% clean electricity policy.

Figure 3: Support for Climate PoliciesTotal Support (Strongly Support) – Total Oppose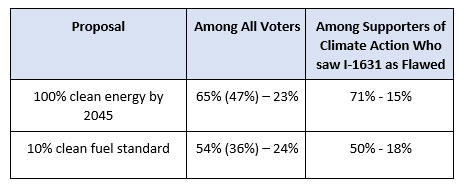 3. One third to a half of voters are more likely to support a state legislator who backs these policies.
Figure 4: Impact of Support for Policies on Likelihood to Vote for a State Legislator


The newly released poll confirms that even many voters who opposed I-1631 continue to support action to address global warming and increase clean energy use. Washington voters are ready for complementary approaches to addressing the climate crisis.
* About the poll:
1,216 interviews with November 2018 voters in Washington state
Conducted November 6-14, 2018, online and via landline and cell phones
Margin of sampling error of +/-2.8% at the 95% confidence interval; +/-4.9% for each one-third sample
Funded by Audubon Washington, Climate Solutions, The Nature Conservancy, Washington Conservation Voters and Washington Environmental Council