Puget Sound is special to me—it's my home, where I live, work, and play. I love to watch breeding colonies of Pigeon Guillemot vocalizing to each other while searching for food near their nests, and the annual arrival of marine birds like Surf Scoters ushers in some amazing winter birding opportunities. But we also face immense challenges here, from rapid population growth and habitat loss to climate change and seabird die-offs. That's why Audubon is rising to meet those challenges with a bold, new strategy to create a more resilient Puget Sound for both birds and people.
The Puget Sound region—which includes population centers like Seattle, Tacoma, and Washington's capital, Olympia—is home to 4.5 million people, including more than 20 Tribes and Tribal Nations. The coastal wetlands, shores, and marine waters of Puget Sound and the greater Salish Sea are a core part of our region's identity and economy, supporting fisheries, busy seaports, and endless opportunities to enjoy the outdoors. These coastal habitats are also home to over 70 species of shorebirds, waterfowl, marsh birds, and seabirds that rely on Puget Sound during some part of their life cycle.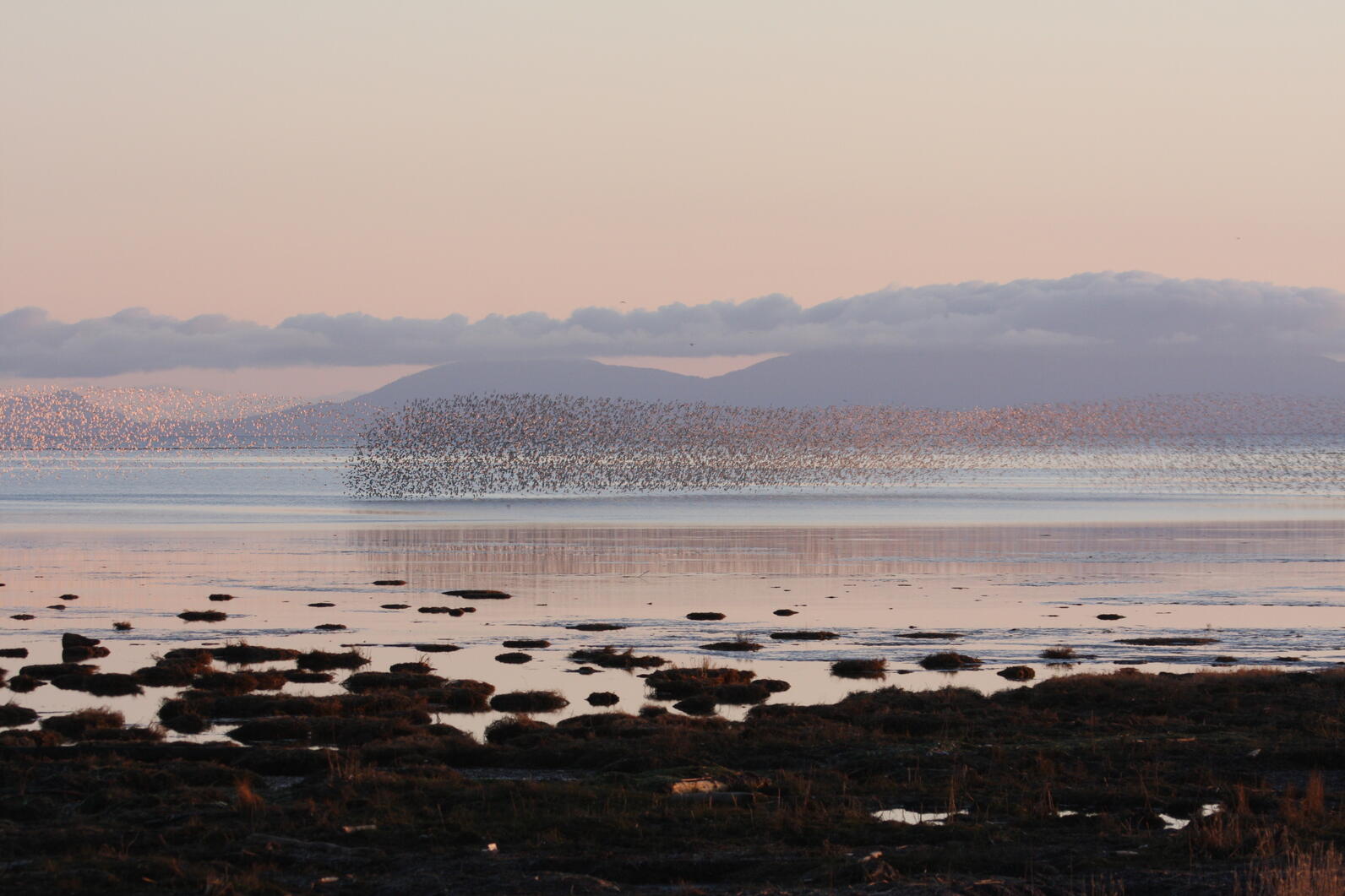 Climate change puts Tribal treaty rights, coastal communities, and their ways of life at risk. Sea-level rise and heavy rain threatens to flood homes, businesses, and infrastructure. Warmer ocean temperatures changes the distribution and abundance of fish, making it more difficult for both anglers and seabirds to find them. Compounding the issue, nearly 80% of Puget Sound tidal wetlands were diked and converted to agriculture during European settlement in the 1900s, resulting in an untold loss of birds and biodiversity.
To tackle these challenges together, Audubon created the Puget Sound Conservation Strategy—our commitment and roadmap to working together with Tribes and frontline coastal communities to advance solutions that build resilience for birds and local people, and deliver science and policy support for doing so.
This strategy includes a decision-support tool to help us identify the most important sites for conservation in Puget Sound. We mapped out key bird habitats and layered them with data on forage fish spawning areas, Chinook salmon habitat, and the communities that are most vulnerable to storm surge and rising seas. The intersection of all these values shows us where we should target our work to provide the most benefit to birds and people in a changing climate.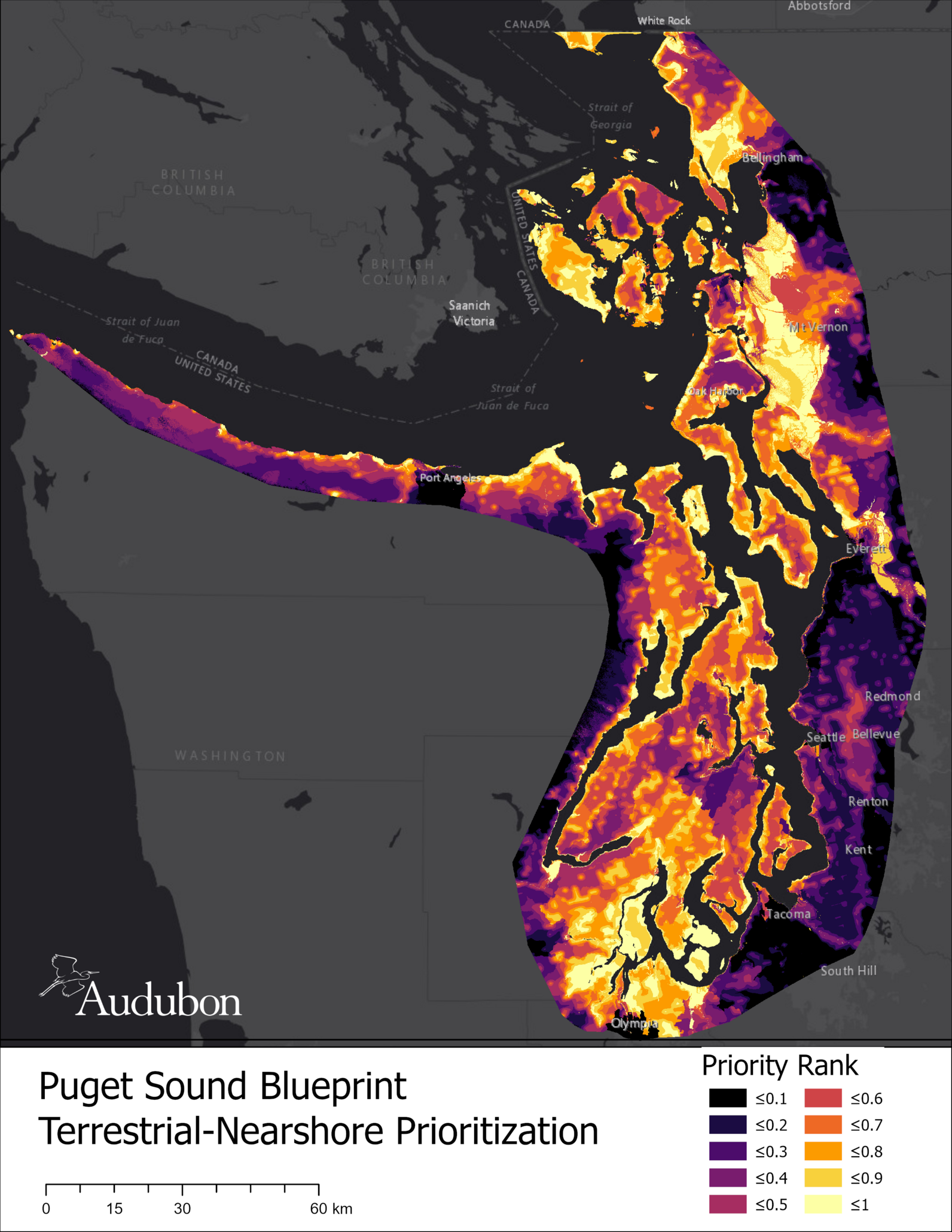 We're already putting this tool to work to make a difference in Puget Sound. In partnership with local Audubon chapters and Tribal partners, we've identified opportunities to accelerate and enhance local conservation efforts—from advocating for funding for a critical estuary restoration project in the Stillaguamish River estuary, to exploring solutions for tidal marsh erosion in the south Sound. Our science and policy expertise underlies everything we do in Puget Sound. At the same time that we're delivering science support for bird conservation in the region, we're also activating our 50,000+ members in support of policies that will advance Puget Sound resilience and recovery, such as the integration of climate change considerations into Growth Management Act planning.
Our work in Puget Sound will ensure that we not only secure vital habitat for Puget Sound birds now and in the future, but also build resilience and improve health for socially vulnerable communities.