It's become cliché to say that, "in these uncertain times....now, more than ever," we must take action. But being cliché makes it no less true. In the wake of a historic election, in the midst of a pandemic unfolding in an ever more visibly changing climate, our elected officials simply must do more to invest in prosperous and resilient communities. On December 9, 2020, Audubon members from across Washington state will be bringing that message to legislators in the run up to what's certain to be an unparalleled 2021 legislative session.
We're excited to invite you to Audubon in Washington Advocacy Day on December 9th, 2020. We'll be working with local chapter leaders to schedule virtual meetings with legislators in your area and we'd love to have you join us in speaking up for the birds.
Register here if you'd like to join.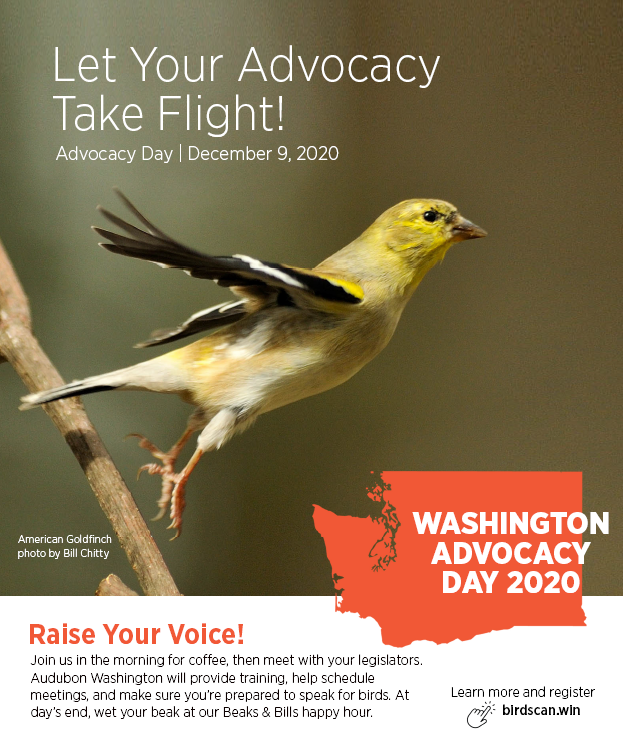 Washington's natural resource agencies historically receive less than 2% of our state budget. Because of the COVID-induced economic recession, even that relatively small appropriation will be under threat. Our most recent bout of smoky air also makes it clear: the climate crisis poses an increasing threat to birds, our health, and our communities.
Join us in making sure our state legislators take the bold action necessary to reduce greenhouse gas emissions and protect the places birds and people need to thrive in a changing climate.
To help you prepare, local chapter leaders will be hosting preparatory meetings in late November and early December. Our state office will also host three separate sessions to go over our policy agenda and answer any questions you may have. Together we have the power to make sure the Washington state legislature takes action that matches the magnitude of the moment, protecting birds and people, now and into the future.