Audubon Washington and our affiliated chapters are excited to host our third annual Advocacy Days from December 4th through the 8th. This event presents a fantastic opportunity to engage with your state legislators and make a difference in your community. We will focus on elevating local chapter issues, Audubon Washington's policy agenda, and the Environmental Priorities Coalition priorities.
By signing up today, you can be part of a dynamic team of local birders and conservation enthusiasts. Together, we will schedule virtual meetings with your elected officials to advocate for the birds, their habitats, and important conservation and climate policies.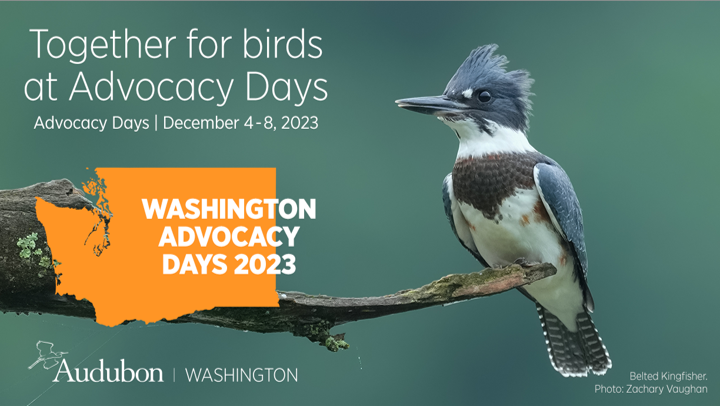 Preparation for Advocacy Days
In the weeks leading up to Advocacy Days, Audubon Washington staff will work closely with volunteers like you. We will ensure you are well-prepared to share your passion for birds and convey the significance of conservation and climate policy to your legislators.
Your Role in Advocacy Days
Local Chapter Priorities
Do you know what's happening in your local community? Are there crucial conservation needs that require attention? Perhaps there's a vital habitat project that needs funding or support. Audubon Advocacy Days offers a unique platform to communicate these local priorities to your representatives in Olympia.
Audubon Washington Policy Agenda
During the upcoming 60-day legislative session, our state office will be at the forefront of efforts to safeguard and bolster spending on conservation and climate priorities. We will advocate for the protection of the Climate Commitment Act (CCA) and ensure that CCA funding contributes to climate resilience for both birds and people. Additionally, we'll call upon legislators to safeguard, restore, and enhance Puget Sound shorelines and Shrub-steppe habitat.
Environmental Priorities Coalition (EPC) Priorities
In collaboration with our partners in the Environmental Priorities Coalition (EPC), we are committed to advancing a comprehensive Environmental Priorities agenda at the state level. We are also working on a partnership agenda that seeks to create a more diverse, equitable, and just Washington state.
Sign Up Today and Be a Voice for Birds and Conservation
Join us for Audubon Washington's Advocacy Days and make a meaningful impact on the future of our environment. Sign up now and be part of this important effort to protect our natural world. Together, we can create positive change for birds and people!