What are Audubon's Climate Action Teams and why now?
The world is facing unprecedented public health and economic crises, many of us are struggling with social distancing, but right now, we see reasons to be hopeful. Covid-19 has upended our sense of normalcy, but it also opens doors to new possibilities. Indeed, the actions we take over the coming months will define the world for generations. Audubon's new Climate Action Teams of Washington offer the opportunity to be bold and help bring about the world we know we'll need after this pandemic passes.
During this time Audubon is doing what we've always done -- using science to inform our actions and protect what we cherish. Whether we're supporting our communities in combatting COVID-19, or passing policies to protect birds from climate change, Audubon members are always committed to working together to protect nature and our communities.
As our economies begin to reopen, it will be up to us to ensure we transition to a healthy clean energy future that doesn't imperil birds and people. Specifically, we need to make sure that our elected officials don't sideline essential climate and conservation priorities, but instead incorporate them into COVID recovery plans. That's going to take all of us working in coordination, in a few particularly important places.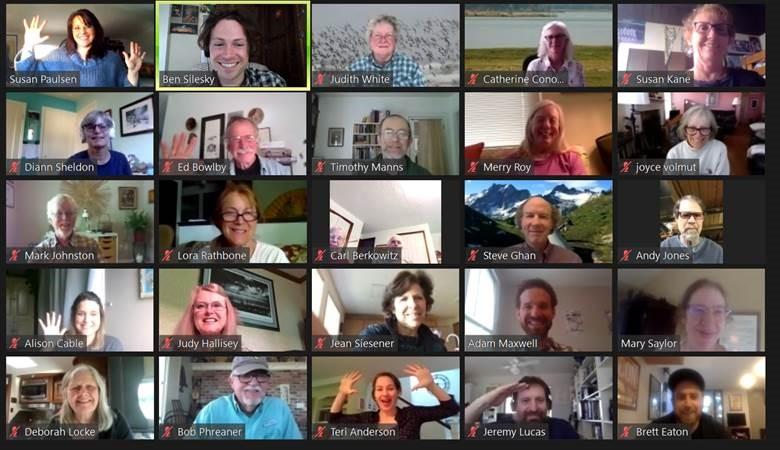 That's why we're working with Audubon chapters and members across the state to create Climate Action Teams! While we hope to meet in person soon, these teams will be an essential way to connect remotely with each other and with the broader community around the shared joy of birds and our shared responsibility to protect them. Protecting birds and people by transitioning to a 100% clean economy is still our guiding mission and we need a powerful coalition of climate advocates in key legislative districts to achieve this vision. These teams are not limited to Audubon members so we're encouraging you to invite your family and friends!
These climate action teams will be guided by the following principles:
Solidarity: Checking in, individually or as a group, and hearing from you about how your community is doing during this time;
Joy: Sharing backyard birding tips, stories, and resources to help you experience the joy of birds and the natural world from your home;
Education: Learning about climate policy; birds, or natural sciences with monthly speakers
Advocacy: Sharing local, statewide, and national climate advocacy opportunities;
Organizing: Committing ourselves to organizing our community around a COVID response that includes climate action.

Where will the teams be located?
With increasing threats to birds and people, we must ensure that strong clean energy and conservation polices are passed in Olympia. That means we'll need legislators to view our issues as a high priority in the COVID recovery. The most efficient and effective way to make that happen is focusing our advocacy and organizing work in a few strategically important districts.
It's simple: our legislators won't vote for our climate and conservation priorities if they don't hear it as a priority from their constituents. That means it's up to us to get a broad and diverse array of constituents, influential community leaders, and local organizations to support climate and conservation-focused COVID recovery policies. To make transformative change, we need transformative voices.
We're committed to building power in Republican and Democratic-represented districts wherever we can find common ground. We've also chosen districts whose legislators have indicated that they could be moved to support our priorities but need more vocal and visible support from their constituents. That's where you come in! Whether you live in one of these key districts or not, everyone can help organize!
Part of our broader mission to protect birds
We are facing a climate crisis of epic proportion—one that threatens two-thirds of North American bird species with extinction if we don't act now. What's good for birds is good for people, and the threat of climate change has made it more clear than ever that the fate of the human and natural world are intertwined. It's up to us to be the voice for birds, which means it's up to us to accept nothing less than 100% clean energy alongside healthy ecosystems that support birds in perpetuity.
Together, we can do this. We will do this. Join us today and get started.